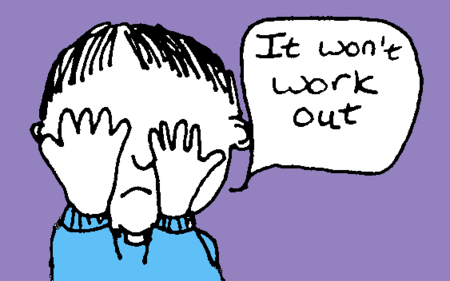 We know that negative beliefs will sabotoge our success and ability to create abundance. For the beliefs are the driving force in our feelings and actions. Core beliefs such as "I'm not worthy", "It's all my fault", " I am a failure", keep us from reaching our goals and dreams. We live as if they are true. And so, our work is to recognize what core beliefs we hold and use EFT to release and reframe the way we perceive ourselves. The fear of failure is a belief that is so prevalent for many of us. We remember the times we tried and failed. Perhaps you were shamed , or ridiculed, or hit, or abandoned for mistakes. As those memories collect in our "brain files", we hear those messages over and over from past experiences and one day we give ourselves the message; "I am a failure". Suddenly, you find yourself in present time, afraid to take risks, try new things, socialize with new people and so on.  The fear to fail curtails your ability to live fully and to grow into the person you were meant to be. The following tapping exercise is to assist you in releasing the fear and reminding yourself that you are really enough- mistakes and all.
EFT Tapping_To Release The Fear of Failure


Starting with the Karate chop point:
Even though I'm scared to fail, I deeply and completely accept myself
Even though I'm overwhelmed with this feeling, I accept who I am and how I feel
Even though I'm scared I won't know or be enough, I accept who I am and how I feel
Eyebrow – I'm scared to fail
Side of  eye – I'm so scared
Under eye- Scared I won't get it

Nose – I don't know enough
Chin – I 'm not enough
Collarbone – I don't have what it takes
Under arm – I 'm scared
Head – I'm not enough

* Rate your intensity now – if your emotional intensity has not reduced, repeat this round again before you go to the next rounds.
Starting with the Karate Chop point:
Even though a part of me is scared and part of me believes that maybe I can do this, I love and honor both parts
Even though a part of me doesn't feel enough, I choose to remember times I have been successful and felt enough.
Even though a part of me still fears to fail, I deeply and completely accept myself

Eyebrow – Part of me is scared
Side of eye – Part of me knows I can do this
Under eye – No I can't, it's too much
Nose – Yes I can, I know how to figure things out
Chin – No I can't, I'll fail
Collarbone – Yes I can
Underarm – Choosing to be easy and more patient with myself
Head - Helping the little girl/boy inside of me
Eyebrow – Remember he is capable and smart
Side of eye – Even if it takes a little longer to figure out
Under eye – I choose to know I'll get it
Nose - My little girl/boy is really ok and I'm ok
Chin – He/she is enough
Collarbone - I am enough
Underarm – I remind her/him everyday he/she is enough and completely capable
Head – Holding my little girl/boy
Eyebrow – Helping her/him release this fear even more
Side Of Eye – Releasing this fear now
Under Eye - Letting this fear melt away now
Nose – Choosing peace and confidence instead
Chin - Visualizing a healing light all around me
Collarbone – In this light, the fear melts even more
Underarm – In this light I am safe and peaceful
Head – Safe and peaceful

Repeat the tapping as needed, to reduce the intensity of your thoughts and feelings
Ruth Stern